Discover more from First 1000
The untold stories, strategies, and growth hacks companies deployed to get the first 1000 customers. New issue every other Tuesday
Over 83,000 subscribers
🌯🍔🥗 Doordash
How Doordash got their first 1000 customers
👽Just in case you live on another universe.
DoorDash is the leading food delivery platform in the United States, with around 45% market share of meal delivery sales founded in 2012 by then Stanford students Tony Xu, Stanley Tang, Andy Fang, and Evan Moore.
---
🎬Let's start from the beginning...
Tony Xu grew up in a family of Small Business Owners, and to him and his cofounders, they identified this was the domain they wanted to solve. So they went out and created a bunch of different "experiments" pitching different ideas to small business owners, and in one of those meetings, the owner Chloe burst out, "Well, there is one thing I wanted to show you." She took out a thick booklet. It was pages and pages of delivery orders. "This drives me crazy. I have no drivers to fulfill them, and I'm the one doing all of it." The rest is history.
---
⏱The following three months.
For the following months, Tony and his cofounders, knew that they needed to learn a lot more about the problem? Delivery is a decade-old problem that many hundreds, if not thousands of people, tried to tackle. Moreover, some more prominent corporations seemingly have been going around it well as Dominos and FedEx that each delivers over millions of orders every month. Tony signed up to be a driver for these platforms, and concurrently, they went to interview around 150-200 Small Business Owners to understand this space as deeply as they can.
Some of the early lessons they uncovered were that literally, drivers had to write their schedules on a sheet of paper and wait for their boss to call in to confirm their working hours. But they never get it right; you either have too many or too few even for places like Dominos that delivers over 1m orders/day.
---
💻MVP is just an MVP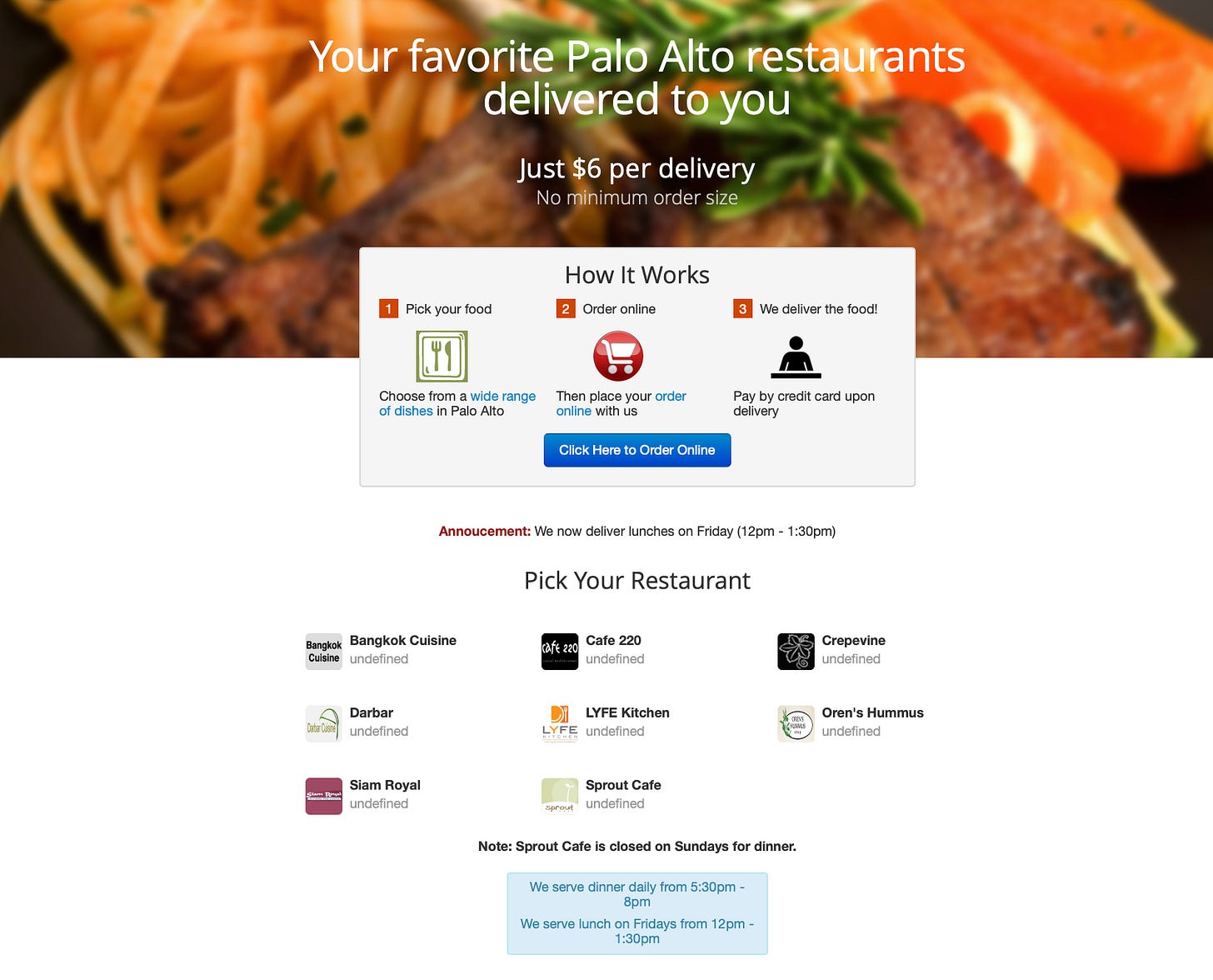 After they were validated and soaked as much knowledge as possible about the problem space, they launched their first MVP in just a few hours. Their first website didn't have an online booking process – customers would have to call a phone number on the site (which was just one of the founder's mobile phones). There was no fancy dispatch system or any backend for that matter. Nor did they go out and recruit any drivers – they listed times when they could make the deliveries themselves (whenever they weren't sitting in lectures). They didn't even talk to the cafes and restaurants they had put on the website.
---
🥇The first order
When they launched their landing page, they wanted to validate that indeed people have the problem they are trying to solve and are willing to pay for it, and hence they didn't spend any time or money on "Marketing" or "Growth Hacking." Instead, they wanted to reach people in Palo Alto, searching for food delivery. They named their website PaloAltoDelivery.com in hopes that this would prompt the google engine to display their webpage favorably when people search for "Palo Alto Delivery." It worked. Half an hour of launching their page, they got their first phone call for a Thai Food order.
---
🙌The next 199 Orders
For the first 200 orders, the founders did everything by themselves. They did not hire any dashers and only delivered in two timeslots from 12 pm- 1:30 pm, and from 5:30 pm to 8:00 pm, these were the timings that they could make work between themselves and their classes.
To help kickstart things on the Stanford campus, Tony sent an email introducing PaloAltoDelivery to his dorms. Between that and the organic reach from google search, they managed to get enough traction to deliver their first 200 orders all without hiring a single dasher.
---
🧗🏻‍♀️Moving Forward.
From there capitalizing on the early traction and word of mouth, the team would go down University Avenue, just passing out flyers trying to promote DoorDash. They would manually email every new customer at the end of every night, asking how their first delivery went, and how they heard about them. They would personalize all these emails: If they saw someone order chicken skewers from Oren's Hummus, they would say, "Oh, I love Oren's Hummus. How are your chicken skewers? How did you hear about us?" Feedback like that was precious, and customers appreciated that. They used this feedback to build and improve their product and build a close relationship with their early adaptors that would turn into advocates, and it wasn't until the first couple of years that they ran any paid marketing campaign.