👩🏾‍🎨Etsy
How Etsy got their first thousands of customers and sellers onboard simultaneously?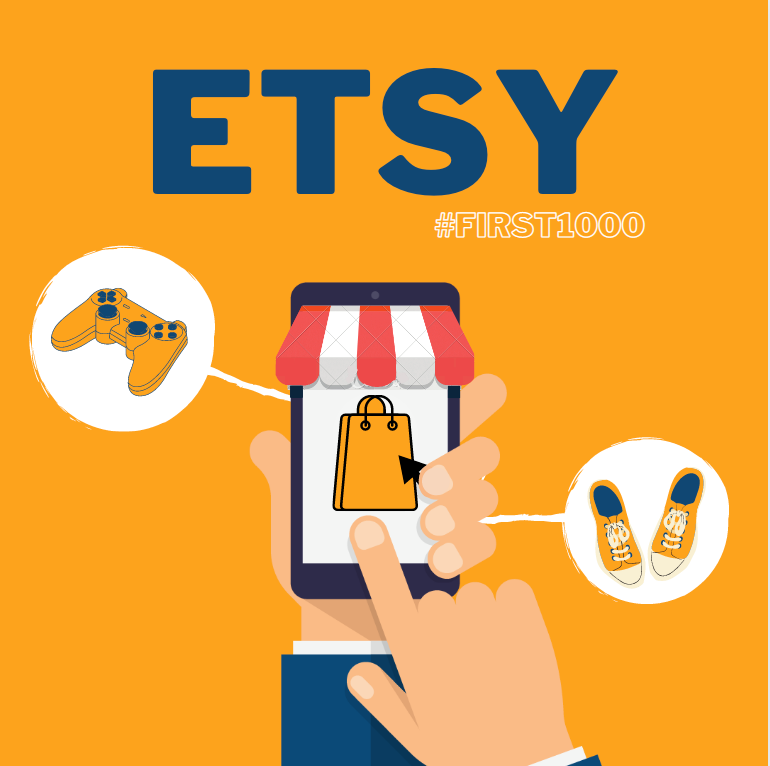 You don't need to be an expert.
Before Etsy came IOspace. IOspace was a software development house that "can make things out of HTML, CSS, PHP, MySQL, PostgreSQL, wood and acrylic. Most everything we do is computer-based, including our work in wood and acrylic." A software house that sometimes does computer wood and acrylic design 🤔... impressive.
One of the projects they undertook at IOspace was a redesign of getcrafty.com. Getcrafty, at the time(2004), had over 10,000 members. It was an online forum for artisans. As the IOspace founders emerged themselves in the Getcrafty community to try to understand how best to redesign the website, they discovered that the overwhelming discussion was around something like, "I wish there were a place where I could sell my crafts! eBay sucks - it's hard to use, doesn't care about us, and charges high fees."
They found an opportunity, and they acted on it! Everyone(hmm VCs) says to build a product for yourself, Kudos to you if you do, but Etsy proves that doesn't always have to be the case.
---
Two months is a long time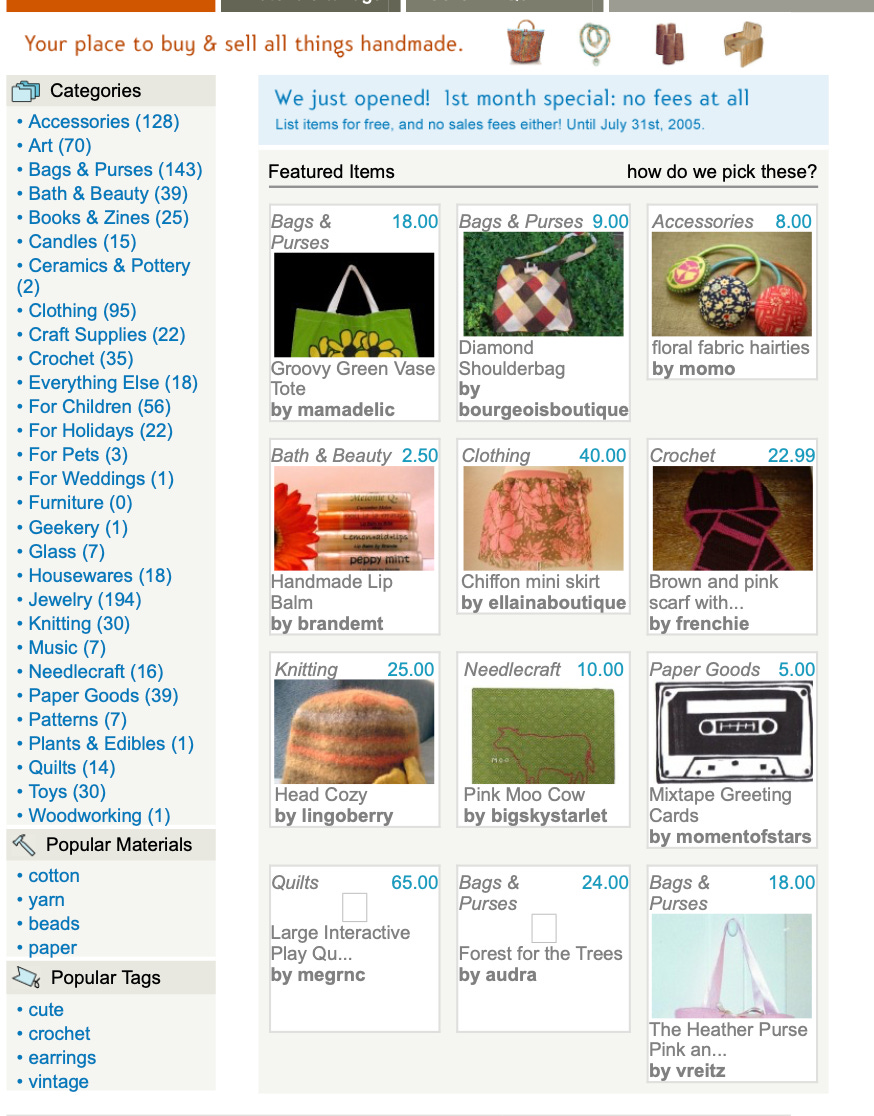 The next step was to build an MVP, and after two months of development, they had everything set but a payment system. So what did they do? They launched and made Etsy free for both sellers and buyers until they could bake payments into the product. This also helped them play to their biggest competitor weakness; the number one complaint artisans selling on eBay had was the exorbitant commissions. They knew that because of their work on craftsman.com.
Two birds one stone.
---
Leveraging existing platforms
This is often the trickiest part. Now that they had a problem worth solving and an MVP, how did they get buyers and sellers on board? I mean, the whole point of this newsletter is to figure out how do you get your first 1000 customers (and sellers if you are a marketplace)? For Etsy to generate demand (and supply as well), they relied on the existing online forums but not in the way that you would expect. They didn't go around spamming every post/website out there discussing selling vintage/craftwork online. Instead, they focused on two leading forum websites and established working partnerships with them. This works because they partnered with people downstream to their business, so Etsy is a value-add to an online forum (you can do more than discover), and the incentives are aligned. The two main forums they worked closely with were
Getcrafty.com: This is the online forum that had 10k members who inspired the team to build Etsy. Because they were still also working on that as a freelance project, they had access to the community, the data, and a strong relationship with the founders that they leveraged to seed the demand on Etsy.
Craftster.org: Craftster was X10 bigger than getcrafty (over 100k members), and their members echoed the same problems(they can't find a seller-friendly place on the internet to sell their stuff). They were often buried in the eBay results pages because of the "deal-hunter" nature of the website, and they didn't find the eBay commission fee structure fair to them. So the Etsy team reached out to the Craftster founder and worked out a deal (though the exact terms are unknown till today) to help Craftster users discover Etsy upon their launch.
These two partnerships were enough to have "thousands of sellers excited to register and try it [Etsy] out by launch time." 
In their words their Go To Market Strategy was 
Extend(ing) an accommodating bridge to a preexisting online community, and people jumped aboard happily.
---
Wine & Dine
For the supply side, Etsy did not try to poach sellers from eBay, as Airbnb did with Craiglist. Their supply strategy was to get the best creators onboard while hoping the sellers' audiences would follow. The store set up on Etsy, and it's focusing on people lets sellers shop more of their personality and brand and build relationships with buyers and other sellers. That is a stark difference from eBay, and one of the key selling points used to recruit sellers.
Q: Where can you find the best sellers that have the highest quality products?
A: Tradeshows
Etsy decided to go all-in on these fairs across the United States, visiting one or two almost every weekend to recruit sellers. Once they got there, they did three things.
🍷Wine & Dine: They would approach the most exciting sellers in the show and offer to buy them lunch.
👨‍👩‍👦‍👦Show their Support: They would drop off 'craft show kits' to those sellers as small souvenirs. 
👩🏾‍🎨Scream their brand: They would pass out brochures and promo codes for Etsy. However, all the leaflets were handmade and had a very "Etsy feel" to them.
These were artists/crafters that were influential in the handmade world. They knew if they set up shop on Etsy, and were successful, others would follow. It's important to note that a lot of these sellers previously had no e-commerce presence, so for them to accept any online transactions at all, they had to send buyers to Etsy. A significant number of those sellers would vitalize the demand side (as they send their customers there) and build upon the early traction they got from online forums.
---
Before you go
If you enjoyed the Etsy journey, then you will love what comes next:
Top-of-the-funnel Growth Database: We have compiled a database of 49 Top-of The-Funnel experiments to A/B in your product. You can get it here.

Newsletter Glue: If you are thinking about starting a newsletter to integrate with your WordPress site, then checkout Newsletter Glue. I played around with the demo this week, and ITS AWESOME. 

Must Read: Thoughts on career, optimization, and arrival. Starting something new is terrifying, and this article has helped me shed a lot of perspective on the journey.
and of course big thanks Jenifer Eda Menezes. for the illustration😊

That's it for today, See you next Saturday 😉,
Ali Abouelatta