Discover more from First 1000
The untold stories, strategies, and growth hacks companies deployed to get the first 1000 customers. New issue every other Tuesday
Over 86,000 subscribers
🇮🇳10 Indian companies
How these Indian startups able to get their early set of users. Which hack or method they used?
This week we wanted to go beyond Silicon Valley and explore the burgeoning startup world in India. To do just that, I am glad to have invited Harkirat Singh to write a guest post on how 10 different Indian companies got their first 1000 customers?

The post first appeared in his Inside Startups Substack which you should definitely subscribe to!

@Harkirat take it away from here 🔥
---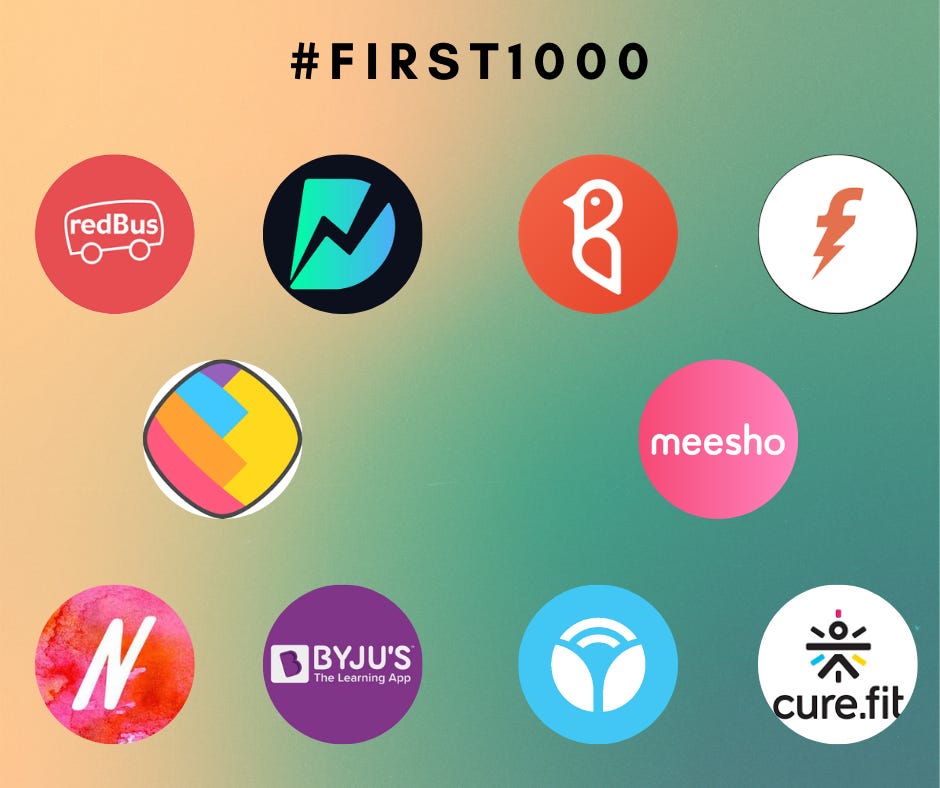 From the past few days, I was curious about how some of the Indian startups able to get their early set of users. Which hack or method they used? 
For satisfying my curiosity I read blogs about these startups, binge-watched their youtube interviews and reached out to their founders/team on Twitter or Linkedin…finally I was able to get my answers(Yippee!).
So, I thought of publishing it especially for other early-stage founders or creators might get any insight from real actionable methods/hacks used by other successful startups.
If you found this helpful, feel free to share the link with someone who may find it useful :)
Not taking much of your time…let's dive into it.
P.S: This blog will be updated whenever I got to know interesting GTM hack for any other startup.
---
Meesho
Meesho started with ethnic fashion category, targeting tier-2,3 housewives and women who were running their boutique or were already selling on WhatsApp as a reseller.
So, they started collating a dedicated buyer & seller WhatsApp/Facebook groups for them.
Plus, they onboarded some micro-influencers who were having a dedicated audience in these areas, asking them to pitch the app.
ShareChat
Before starting share chat, the founders were able to create about 600 WhatsApp groups (using FB scraping and posting)when they were trying to sell a debating app named "opinio", which eventually failed.
They used those WhatsApp groups when building share chat and got their early app users by sharing "Good morning" greeting, political, inspirational quotes etc. messages that link to their play store app.
Byju
Byju started giving workshops and live sessions for CAT preparation in Bangalore. The target audience was then IT professional who aspires to crack CAT so Byju initial marketing messages were focused on them.
Once Byju started getting famous he started giving his session in a large auditorium in other cities like Delhi, Mumbai, Pune, Hyderabad, Kochi etc.
After the success of his auditorium sessions, Byju started offering 10-weeks full-fledged course on competitive exam preparation, followed by pre-recorded sessions for students in other cities.
Yulu
Yulu strategy was simple and focused on partnerships.
Initially, they partnered with big corporates offices, tech parks, commercial buildings asking them to allot a space for Yulu zones in their parking area. The word is spread to their employees through Posters and pamphlets to use Yulu instead of a car.
Some employees from those companies requested Yulu zones in their apartment by giving space for Yulu zones.
Nykaa
Google ads + Partnerships + Education = Killer combination!
Yes, this formula was used by Nykaa in their early months to get their first 500, 100 customers.
Firstly, they initial targetted personal care products (especially endorsed by celebrities)and partnered with trusted brands such as Lakme, L'Oreal Paris, HUL and P&G to sell their products on their platform.
The timing also played a huge role for Nykaa in bringing these marquee brands on their platform. Because in the year 2012 (Nykaa lunch year) the e-commerce platforms were started seeing some growth and there was no dedicated platform available for these beauty products only.
So, bringing these brands who were available only in offline stores and leveraging their products to reach people early adopters (rich and wealthy) who were already buy online was a win-win for both Nykaa and the partner brand.
Adding on, providing tips and methods to use those personal care products endorsed by Bollywood celebrities through videos and blogs was the icing on the cake.
Dunzo
Before Dunzo was an app, it was a service run on WhatsApp groups (around 3700 groups), with one group dedicated to each user segment And an operator act as a manager relaying the messages between the user and the rider.
The WhatsApp group was started by the founder Kabeer Biswas that helps their friends, family and neighbours to get any work done from delivering forgot iPhone at the office from home to cleaning Peigon shit at your cooler.
Before seed funding, Dunzo has hired final year college students to get either get the stuff done or to manage the WhatsApp groups.
Cure-fit
The strategy used by Cure fit purely focused on acquisition. but the plus point for them was that they were already having funding before the launch.
So, they acquired two popular gym studios in Banglore i.e Tribe Fitness and Cult as they were already specialized in a group class with less or no equipment.
On other handy, the freemium hack of Cure-fit i.e giving a customer free session, only if they book from the app also helped them to attract early users.
RedBus
The redbus was basically started well before digital marketing was a norm in India. So, for getting early customer their hack was traditional and straight-forward.
The founders pitched to several travel agents about the idea and when travel agent was ready to give them seats to sells, they used to distribute RedBus cards to the employees working in the big IT companies such as Infosys.
Their early adopters were people from the software sector who would go back home via bus over the weekend. Also, they started selling on Deal sites and increased its brand awareness by investing in Auto rickshaw advertisements.
BulBul
Bulbul platform is used by three stakeholders…hosts, sellers and consumers (targeted tier-2,3 cities).
In order to attract consumers, Bulbul focused on onboarding Instagram/FB micro-influencers as a seller and asking them to promote their bulbul profile with products through their active social media accounts/ WA groups.
In one of his blog, co-founder Sachin Bhatia writes…
As part of our pilots, we went live on FB and Insta with products across categories to understand the level of engagement and interaction that a live environment provides. We also shot and distributed a video a day over WhatsApp to gauge early PMF and to analyse conversions.
one more interesting thing I got to know that, bulbul team invited Delhi-NCR influencers over a free "meet and greet" meetup at Lord of the Drinks, CP to discuss the idea of growth and collaboration, adding all the influencers into a WhatsApp group informing them about next steps.
FreeCharge
Freecharge used not one but two-three hacks to get customers to do the transaction from their website.
Firstly, their targetted Youngsters as their early adopters as they are open to trying new things and are tech-savvy.
For attracting them, Freecharge initial team member used to spend their weekends at top-notch colleges in the city like IITB offering Freecharge coupons to college students when they recharge on spot.
Through top-management friends and family connection, they were able to distribute coupons in universities from other cities like IIT D, ISB Hyderabad, IIM etc.
The second thing that worked well for them was to reaching out to bloggers and other media publications to write about them.
And the third one is…
"the team also created a fake Facebook id (a beautiful girl) that immediately got to a few good thousands of friends. The idea was to reach out to several college kids using the fake id, which they did".

---
That's it for today, see you next week 😉,