Discover more from First 1000
The untold stories, strategies, and growth hacks companies deployed to get the first 1000 customers. New issue every other Tuesday
Over 83,000 subscribers
🚚Postmates
How Postmates got their first 1000 orders?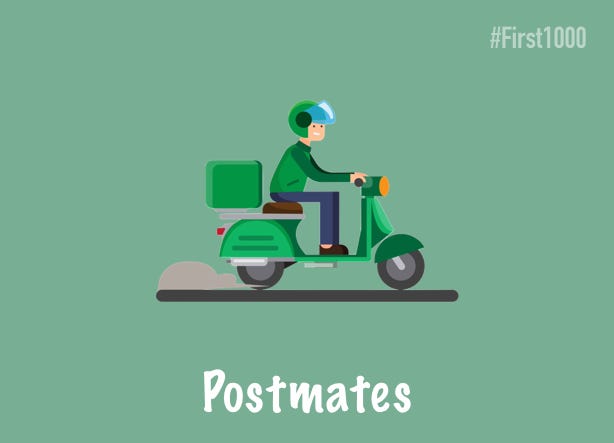 So Postmates was acquired by Uber for $2.65b last week... it seemed timely to write an issue on them. But before we get started, I just wanted to apologize for the delay in sending this week's newsletter. The internet lords (ISP) have decided throughout the past five days that I am not worthy of Wifi @ home. I just got back online, and boiiiiii does it feel good.
👵Let's rewind the clock when Postmates wasn't really Postmates.
When Postmates launched its Beta back in September 2011, they were a little bit different. Their offering was an on-demand delivery service connecting couriers and bike messengers within a city to anyone who needs to ship anything, from a birthday card to a refrigerator. They were the "Uber of things." In the old Postmates era (Sept 2011-April 2012), Bastian, Founder & CEO, was focused on onboarding retailers ( as furniture stores) that don't necessarily have a full-time fleet but would need to do deliveries regularly. They could tap into the Postmates network, and place a delivery order as easy as ordering an Uber.
"Whenever we showed that solution to merchants, they got excited, said they would use it 1000 times a day, and we got 1 or 2 orders from them at the end."
---
📝Users spoke, Bastian ignored.
In the pre-WeCanBuyYouAnything era, Postmates did have, theoretically, all the components they need to create a billion-dollar 🦄.
$12B Market Size ✅

Fragmented, outdated and Opaque industry✅

Distribution ✅

Merchant partners (i.e stores) recommending solution to customers

Network Effects . ✅
User recommended By Merchant->Download App>Discover new merchants>Merchants get more customers>So they recommend more users
Press coverage ✅ 

Techcrunch, Time Magazine, Pando (RIP)...etc
Being a young startup, it's easy to get trapped in the "if we only do X we will break out" mentality, especially if you are going after a big, outdated market with a sleek, tech solution. VCs love that 🥇. This is why it took Bastian 7 months to look into the "Can I use Postmates to purchase X?" inquiries, which started almost immediately when the app first launched. At first, he was adamant that users don't "get it," but as time proves, again and again, the customer is always right. LISTEN TO THEM!
---
🥵Burnt by the merchants
When Bastian finally caved and decided to test this proposition, he had to go back to square 0 and rethink where to deploy his energy in a three-sided marketplaces. Before, he focused on onboarding the supply side (merchants) and couriers. He relied on merchants for demand/distribution. For the GetItNow App, he decided to shift gears and focus on generating consumer demand and onboarding couriers while completely "hacking" supply.
He decided no more partnership! They will list every possible business in SF that they could get their hands on through databases as YellowPages, Yelp, and Scrapping Google Maps Businesses. They Focused their energy on generating demand and acquiring customers. He would later partner with Merchants 3 years after the launch of the then-named GetItNow app.
---
🚀Okai now let's talk about how he got dem early customers.
Because Bastian wanted to test this new value proposition quickly, he didn't spend as much time as he did on the old courier Postamtes developing all the infrastructure needed. So he "hacked" a few things:
Payments: He bought 20 Visa Gift Cards and gave them to his couriers

Partnerships: He scrapped business info online and add it to his apps, also the couriers where disguised "as customers" not to raise any red flags early on
And then, GetItNow was released in the wild. This was rather different than when he launched the B2B Courier Service 7 months back. Bastian was a lot more methodical in tracking Quality vs. Quantity. Being told before that "his solution is amazing, and they really need it," and those same people rarely using it made him a lot more cautious this time around. 
He launched GetItNow in 3 phases: 
Pre-Beta: Trial with existing customers that submitted that request for Postmates to purchase something for them. They got their first 300 customers and $5,000 of GMV

Invite-Only Beta: This is where they exceeded their #First1000 orders. Besides "hacking supply," Postmates implemented these three techniques to generate demand very early in their Beta.

2.1 Weekend Experiment: They sent out a newsletter with a limited two-day offer named "GetItNow." Only for the weekend would Postmates go out and purchase anything the user wanted. If users wanted to be a part of this promotion they had to tweet out the hashtag #GetItNow on Twitter

2.2 Limited invites for beta users. Every new user got the ability to invite only five new people. Making invites for the service a desired commodity for SF darlings.

2.3 Incentivised user feedback: Bastian would offer in a blog post a free delivery for every piece of feedback emailed to him. This unremitting focus on user feedback very early helped direct the team to the most fundamental features to built before an actual launch 27 days later.

Launch: Bastian had his way with the Media, he launched Postmates back when they were only doing delivery on TechCrunch Disrupt and has since had numerous pieces published on his startup. He utilized that relationship and somehow convinced publications to plug in a promo code in the Press Release announcing the launch of the GetItNow app, which we now know as Postmates.
Again Bastian was focused on how much users spend/month on the app instead of how many users he had. He wanted to track the "quality" of his service. He cared about was how much value he was creating for each customer. He wanted to nail the proposition first before going "all out." Given what we know today, I am sure he did the right thing!
---
🙋🏻‍♂️Before you go...here is a little thing for you 
So this week we have two invites to Atom Finance "The Bloomberg for Robinhood traders" to giveaway to our top referees. Reply to this issue or DM me on twitter with the emails of people you referred us to, and we'll send you a code if you are in the top 2. 😉
Hope you haven't given up on wearing a mask 😷,
Ali Abouelatta
See you next Saturday 😉