Discover more from First 1000
The untold stories, strategies, and growth hacks companies deployed to get the first 1000 customers. New issue every other Tuesday
Over 83,000 subscribers
😻Product Hunt
How product Hunt got their first 2000 users by doing things that don't scale
Setting up the scene.
Ryan Hoover, a single non-technical founder has built one of the landmarks of the startup world: Product Hunt. The idea was that there ought to be someplace where you can find all cool things tech. At the time, this information was scattered on Reddit, Quora Techcrunch...etc but Ryan has spent many years of his life blogging, building relationships, and creating projects like Startup Edition..all of that gave him an audience and network of supporters that would help kickstart his new idea.
---
The first 170 users
To test the idea from the get-go, especially as a non-technical founder, Ryan settled on a daily Email list and a Linkydink group. For those who haven't heard of Linkydink, it's a link-sharing tool created by Makeshift. You just create a group and invite people to share links with other contributors and subscribers. Each day, the collection of posts were sent to the subscribers to Product Hunt daily emails. The list started off with a couple of dozen influential people in the startup industry that Ryan personally knew. Seeding the email list with the right people, it soon grew to 170 subscribers and people started interacting with Ryan expressing how much they enjoyed the daily digests. Now it was time to actually build something.
Here is what some few people had to say
Ash Bhoopathy, entrepreneur-in-action at Sequoia Capital.
A fun experiment, I've been wondering why something like this hasn't existed on a larger scale. It's probably the PM/growth dude's best replacement for 'Dribbble' for collecting inspiration.
Andrew Weissman, Union Square Ventures:
Love how you have all kinds of VCs subscribed! Build an angel list syndicate off this list and disrupt them (us) ;-).
Talton Figgins, product support lead, Disqus:
Wrote this idea off at first when I first read about it but after checking out some of the recommendations (Peak, Sqwiggle, Calm, and Cycloramic) I'm hooked. Can't wait to check out more.
---
Building off of that...to the 800 user mark.
After having some validation, the next step in the journey was to grow that audience. Building a community is tough because you need to get people to engage and contribute, all without diluting the value of what you are offering. So to that extent, Ryan followed a slow-growth manual strategy that would take him to the 800 person mark.
That was the first thing to do after launching the email list. Teaming up with his friend Nathan they built the Product Hunt website on top of an open-source framework for a Reddit/HN like community and published the website in just 8 days.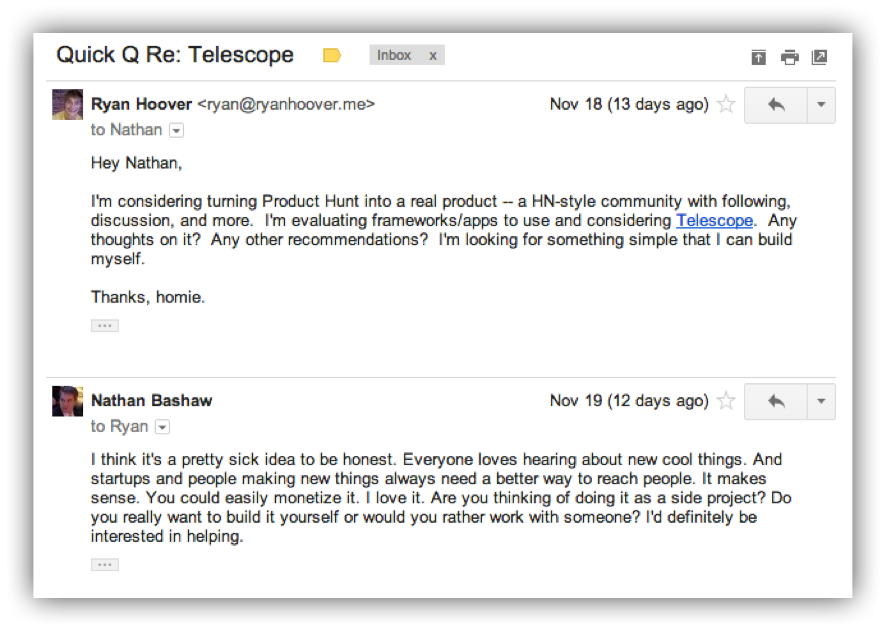 After creating the website, Ryan invited around 100 early supporters to test the "real" MVP. Those people were hand-picked influential people in the tech community and were asked NOT TO SHARE PRODUCT HUNT PUBLICLY. The rationale behind this, as Ryan explains it, is that "initial users form the community's culture and once established, it is very difficult to change."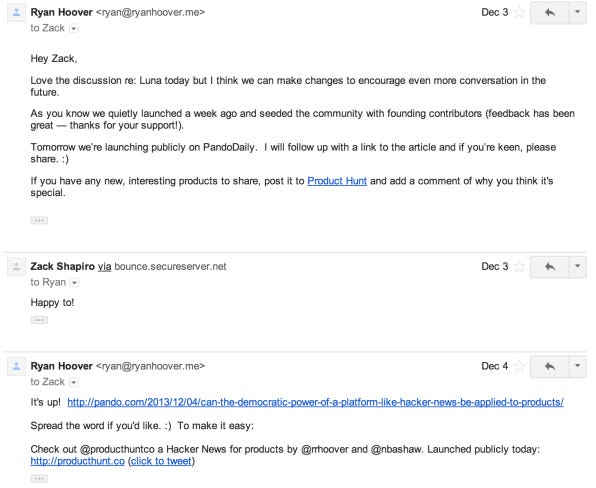 After getting Pando Daily to publish the first story about Product Hunt, Ryan again reached out to early contributors and asked them to share the story on their social media. He got to the first 400 users that way
The next 400 users came from another PR move. This time with Fast Company where Ryan talked about "the 20 minute MVP". 
---
From 800 users to 2000 users in 20 days.
For the next growth cycle, it was all about identifying influential people who signed up, giving them access to contribute, and asking them to refer other people to Product Hunt. It was a lot of manual emails, but it definitely paid off.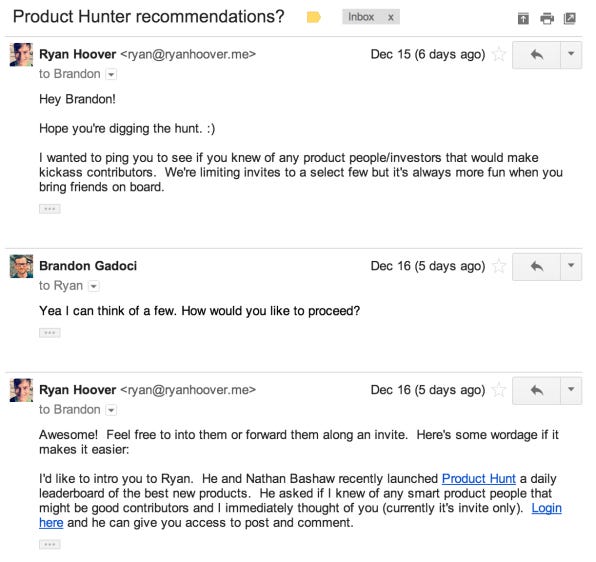 Hundreds of emails later they got their first 2000 users, from there Product Hunt ended up going to YC S14 and two years later were acquired by Angellist for $20m.

That is it for today, see you next week!
Ali Abouelatta